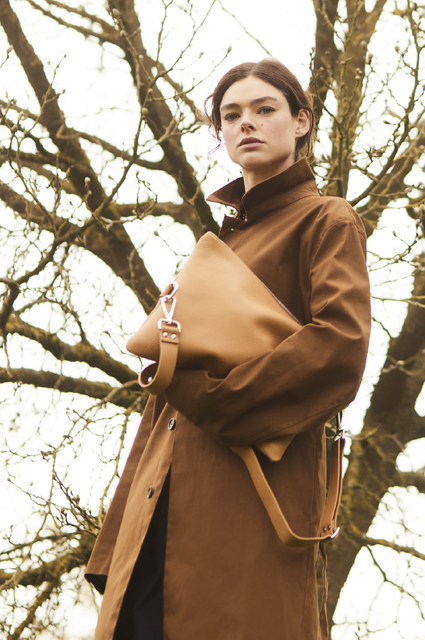 Design
Created in Finland and Belgium
NO/AN is the handbag line conceived by Brussels-based Finnish designer Anna Lehmusniemi. Having worked for several fashion brands and understanding that accessories were her true calling, she logically turned to handbags as a source of inspiration, focusing on sleek lines and high-quality skins.
Bearing minimal details and using a restrained color palette, NO/AN bags are produced in small series, underlining their exclusive appeal. Double leather handles and chunky hardware are some of the brand's trademarks, as well as the collection's graphic and geometrical shapes, recalling the simplicity of Nordic landscapes and architecture.
Handmade in Portugal
The relevance of fair means of production, timelessness in design and high-quality skins is key within NO/AN, coupled with the integrity that the brand stands for. Each bag is made in Portugal by a specialized and family-owned atelier, where the artisans involved get to sign the styles they produced by hand. NO/AN bags are therefore linked to a human being, adding depth to its purpose. The leather atelier where each artisan crafts one bag at a time -from start to finish- was chosen by the designer for its expertise with solid, natural grain leather. The skins come from a local tannery located in the region of Leiria.
"If personalization tends to be the trademark of luxury for most brands, I wanted to envisage it the other way round. Every NO/AN bag is signed by the artisan who made his or her bag by hand, and this kind of connection feels the most personal to me. Craft reconnects us to the beauty of the hand and the relationship one person has with a specific object."
- Anna Lehmusniemi, Founder & Designer
Press
Slideshow